2

0

1

5 Markets: The First Half in Numbers 
Jul 13, 2015/By Charles Sherry, M.Sc.
This handy reference guide rounds up market returns and economic data as of June 30, 2015, and includes context. Market performance includes data for a wide variety of asset classes, sectors, mutual funds, indexes, and more. The economic data focus on interest rates, GDP, inflation, nonfarm payrolls, and the unemployment rate.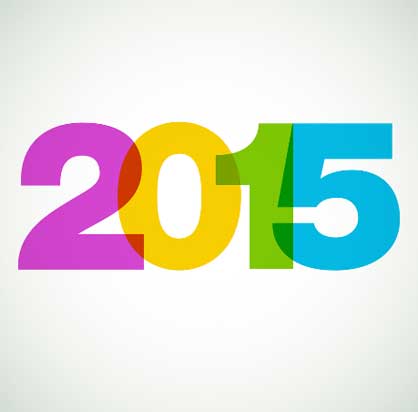 It sure seems as if investors have exerted an inordinate amount of effort just to end the first half of the year nearly where 2015 began. In reality, the volatility we saw earlier in the year gave way to an unusual amount of complacency in the second quarter.
The S&P 500 Index failed to advance or decline by more than 1% for nine weeks straight as the second quarter came to a close. That's the longest streak since 21 years ago, when the closely followed average failed to rise or fall by 1% for 12 straight weeks (Business Insider).
Bloomberg tells us that the S&P 500 Index didn't post a daily gain or loss of 2% or more for 129 days, the longest run since February 2007. That run came to an end on June 29, when the Greek government rejected a deal from its eurozone creditors.
Many of the themes that have supported stocks over the last few years remain in place.
Yes, the Federal Reserve has ended QE, but it has kept the fed-funds rate at near zero. Even if/when the Fed begins a long-awaited series of rate hikes, investors are anticipating a slow liftoff.
The path of U.S. economic growth has been bumpy. As in 2014, GDP contracted during the first quarter of the year, but most indicators are signaling that the economy has gained momentum heading into the summer months. It's a plus for corporate profits.
Despite expectations that Q1 earnings would dip below zero, the S&P 500 Index managed to post a 2.2% rise in profits versus the prior year, up from a forecast of -2.8% on April 1 (Thomson Reuters). In part, the drag on earnings came from a 57.8% decline in profits from the energy sector. The strong dollar was also a headwind.
Another tailwind that has supported stocks has been M&A activity.
With global growth running at subpar levels, companies are turning to acquisitions as a way to boost revenue growth and secure market share, especially since rates to finance acquisitions are so low and many of the larger firms are sitting on mountains of cash.
U.S. M&A activity is up 60% versus a year ago to $987.7 billion, the strongest first half since records began in 1980 (Financial Times). Global M&A is likewise up 38% to $2.2 trillion in the first half of the year, the highest since 2007.
Nowhere is this more evident than in the health care sector. Just look at the top five health insurance companies. Anthem made a since-rebuffed $54 billion bid for Cigna, fearing that its smaller rival might try to do its own deal with Humana.
Humana offered $35 billion to purchase Aetna as the third quarter got under way, which is clearly adding pressure on Cigna to agree to a tie-up with Anthem. And UnitedHealth, the largest U.S. health provider, is casting a large shadow over the group.
But it's not the number of deals that is blowing past records; this is flat compared to the first six months of 2014. It's the size of the deals that has created headlines, as transactions valued at more than $5 billion have increased in number by 42%.
While there are strong tailwinds supporting stocks, the weakness in the U.S. economy in the first half of the year, forecasts the Fed will start reining in its ultra-accommodative policy later in the year, and global concerns, including China and Greece, have played a role in keeping U.S. shares in check.
Plus, analysts argue that stocks aren't cheap anymore, which has reduced some of the enthusiasm for equities.
For the year, the Dow Jones Industrials lost 1.14%, as the crisis in Greece erased what little gains we had.
Meanwhile, the broad-based S&P 500 Index barely managed to hold on to a 0.20% advance through the first half of the year.
Table 1: Market Performance YTD
 
QTD%
YTD%
Dow Jones Industrial Avg
-0.88
-1.14
Transportation Average
-7.43
-11.46
Utility Average
-6.26
-10.96
65 Composite
-3.66
-5.83
Total Stock Market
-0.35
0.96
Broad Stock Market
-0.37
0.94
Large-Cap Growth TSM
-0.17
3.77
Large-Cap Value TSM
-0.58
-2.49
Small-Cap Growth TSM
1.41
7.99
Small-Cap Value TSM
-2.88
-1.47
Micro-Cap TSM
1.55
4.00
Internet
-2.12
2.07
Barron's 400
2.95
7.31
Nasdaq Stock Market
Composite
1.75
5.30
Nasdaq 100
1.46
3.79
Q-50
2.58
14.57
Biotech
7.44
21.63
Computer
0.21
1.49
Industrials
2.32
6.98
Insurance
1.29
1.28
Bank
7.57
7.73
Telecommunications
-1.35
-2.25
Standard & Poor's
500 Index
-0.23
0.20
100 Index
0.70
-0.01
MidCap 400
-1.43
3.42
SmallCap 600
-0.14
3.47
SuperComp 1500
-0.32
0.57
Other U.S. Indexes
Russell 1000
-0.37
0.72
Russell 2000
0.09
4.09
Russell 3000
-0.34
0.98
PHLX Gold/Silver
-3.60
-8.20
PHLX Housing
-2.51
7.03
PHLX Oil Service
4.99
-5.34
PHLX Semiconductor
-2.15
-0.92
Sources: SIX Financial Information; WSJ Market Data Group
Sectors
The market was more or less directionless in the first half, and a quick peek at the 10 major sectors does not reflect the kind of decisive leadership we might see in a more robust market. That shouldn't come as a surprise.
Health care led the way and consumer discretionary took the runner-up spot. But we're not seeing much in the way of leadership from the economically sensitive issues. Note the underperformance from the industrials, materials, and energy.
Meanwhile, the selloff in utilities can be traced to rate-hike chatter, as investors discount an eventual move by the Fed.
Table 2: Standard & Poor's U.S. Sectors YTD


(Ranked by Q2 Performance)

Category—total return
QTD%
YTD%
S&P 500 Health Care
2.43
8.74
S&P 500 Cons Discretionary
1.56
6.02
S&P 500 Financials
1.23
-1.31
S&P 500 Telecom
0.35
0.60
Info Technology
-0.19
-0.02
S&P 500 Index
-0.23
0.20
S&P 500 Materials
-0.98
-0.58
S&P 500 Cons Staples
-2.41
-2.06
S&P 500 Energy
-2.59
-6.05
S&P 500 Industrials
-2.77
-4.13
S&P 500 Utilities
-6.70
-12.32
Source: S&P Dow Jones Indexes
International mixed
In general, global markets provided little excitement for investors. But there were some exceptions. European markets enjoyed a strong first quarter amid improving economic conditions and the decision by the European Central Bank to begin buying 60 billion euros in government bonds each month. However, concerns about Greece and turbulence in eurozone debt during Q2 erased some of the early gains.
Stocks in China enjoyed a resurgence during the year. Despite the onset of a bear market as the quarter came to a close, shares are up sharply for the year. Still, Chinese authorities have recently introduced measures to support equities amid the rout that began in mid-June.
Table 3: Foreign Market Performance YTD
 
QTD %
YTD %
The Global Dow (World)
-0.19
0.47
The Global Dow Euro (World)
-3.79
9.11
DJ TSM Global (World)
-0.06
2.11
DJ Global Titans 50 (World)
-0.09
-0.88
Asia Pacific
Asia Dow
-0.54
5.99
DJ Asia-Pacific TSM (Asia-Pacific)
0.81
6.84
DJ Asia Titans (Asia Pacific)
-0.13
6.52
S&P/ASX 200 (Australia)
-7.34
0.89
Shanghai A Shares (China)
14.04
32.17
Shenzhen A Shares (China)
25.83
74.34
SSE Composite (China)
14.12
32.23
Hang Seng (Hong Kong)
5.42
11.21
S&P BSE Sensex (India)
-0.63
1.02
Jakarta Composite (Indonesia)
-11.02
-6.05
Nikkei 225 (Japan)
5.36
15.96
Kuala Lumpur Composite (Malaysia)
-6.78
-3.10
NZSX-50 (New Zealand)
-1.83
2.85
KSE 100 (Pakistan)
13.78
7.06
Manila Composite (Philippines)
-4.74
4.62
Straits Times (Singapore)
-3.76
-1.42
Kospi (South Korea)
1.63
8.28
Colombo Stock Exchange (Sri Lanka)
2.94
-3.81
Weighted (Taiwan)
-2.75
0.17
SET (Thailand)
-0.09
0.46
VietnamVN (Vietnam)
7.61
8.69
Europe
Europe Dow
-1.95
-0.75
Stoxx Europe 600 (Europe)
-4.02
11.32
Stoxx Europe 50 (Europe)
-4.36
9.36
ATX (Austria)
-3.91
11.65
Bel-20 (Belgium)
-4.06
8.81
PX 50 (Czech Republic)
-5.05
3.67
OMX Copenhagen (Denmark)
-1.1
24.7
OMX Helsinki (Finland)
-8.11
6.77
CAC 40 (France)
-4.84
12.11
DAX (Germany)
-8.53
11.62
ATG (Greece)
2.84
-3.47
BUX (Hungary)
11.24
31.68
ISEQ (Ireland)
2.42
18.00
FTSE MIB (Italy)
-3.01
18.14
AEX (Netherlands)
-3.44
11.33
All-Shares (Norway)
1.69
9.11
WIG (Poland)
-1.41
3.72
PSI 20 (Portugal)
-6.98
15.69
RTS Index (Russia)
6.76
18.87
IBEX 35 (Spain)
-6.52
4.77
SX All Share (Sweden)
-7.01
6.54
Swiss Market (Switzerland)
-3.81
-2.25
BIST 100 (Turkey)
1.74
-4.05
FTSE 100 (U.K.)
-3.72
-0.69
Americas
DJ Americas (Americas)
-0.38
-0.07
Merval (Argentina)
7.56
35.88
Sao Paulo Bovespa (Brazil)
3.77
6.15
S&P/TSX Comp (Canada)
-2.34
-0.54
Santiago IPSA (Chile)
-2.08
-1.09
IPC All-Share (Mexico)
3.04
4.42
Caracas General (Venezuela)
159.33
242.26
Other countries
Case 30 (Egypt)
-8.36
-6.22
Tel Aviv (Israel)
1.42
12.55
Johannesburg All Share (South Africa)
-0.72
4.09
Source: SIX Financial Information; WSJ Market Data Group
Table 4: Other Global Indexes
 
QTD %
YTD %
MSCI EAFE
-2.79
7.05
MSCI World
-1.29
3.01
MSCI World Ex-USA
-2.79
6.33
MSCI EM
-0.23
4.32
MSCI BRIC
2.57
9.20
Source: MSCI.com
Style: Large caps take top spot and growth outperforms
The major market averages were little changed in Q2, and we didn't see much in the way of divergence among the large-, mid-, and small-cap groups. Among the core funds, the large caps eked out a small gain as the quarter came to a close.
In each category, growth funds took top honors.
Elsewhere, the continued strong performance in biotech fueled gains in the respective funds. Sectors that are sensitive to rates, however, performed poorly, including utilities and real estate.
Table 5: Style Performance YTD
Style
QTD%
YTD%
Large-Cap Core Funds
0.11
1.00
Large-Cap Growth Funds
0.59
4.23
Large-Cap Value Funds
0.38
0.40
Mid-Cap Core Funds
-0.68
3.09
Mid-Cap Growth Funds
0.51
6.39
Mid-Cap Value Funds
-0.80
2.03
Small-Cap Core Funds
-0.11
3.64
Small-Cap Growth Funds
1.96
8.03
Small-Cap Value Funds
-0.31
1.74
Multi-Cap Core Funds
-0.22
1.87
Multi-Cap Growth Funds
0.49
4.70
Multi-Cap Value Funds
-0.30
0.51
Equity Income Funds
-1.08
-0.49
S&P 500 Funds
0.13
0.94
Sector/Specialty Funds
Specialty Diversified Equity
-3.27
-3.61
Balanced Funds
-0.5
1.33
Stock/Bond Blend Funds
-0.66
1.34
All USDE Funds
0.03
2.53
Science & Technology Funds
0.93
4.11
Telecommunication Funds
1.8
4.09
Health/Biotechnology Funds
5.01
17.15
Utility Funds
-4.49
-7.02
Natural Resources Funds
-1.42
-1.97
Sector Funds
-6.06
-3.52
Real Estate Funds
-9.06
-5.14
Financial Services Funds
2.84
3.12
Global Funds
Global Funds
0.45
3.25
International Stock Funds
1.37
5.92
European Region Funds
0.93
6.26
Emerging-Markets Funds
0.68
1.79
Latin American Funds
1.58
-7.67
Pacific Region Funds
3.44
10.20
Bond Funds
Short-Term Bond Funds
-0.06
0.63
Long-Term Bond Funds
-2.89
-0.93
Intermediate Bond Funds
-1.64
-0.02
Intermediate U.S. Funds
-0.94
0.09
Short-Term U.S. Funds
-1.64
-0.02
Long-Term U.S. Funds
-2.48
-0.89
General U.S. Taxable Funds
-1.81
-0.77
High-Yield Taxable Funds
0.14
2.29
Mortgage Funds
-0.58
0.48
World Bond Funds
-0.79
-1.36
All Taxable Bond Funds
-0.70
0.50
Short-Term Muni Funds
-0.02
0.46
Intermediate Muni Funds
-0.84
-0.16
General & Insured Muni Funds
-1.17
-0.18
High-Yield Municipal Funds
-1.11
0.42
Barclays Muni. Bond
-0.89
0.11
Barclays Agg. Bond
-1.68
-0.10
DJ Corp Bond TR IX
-3.35
-1.07
Miscellaneous
Managed Futures Funds
-6.40
-0.78
Emerging-Market Local-Currency Debt Funds
-1.13
-4.42
Global Equity Income Funds
-0.63
0.39
International Equity Income Funds
0.36
2.23
Mixed-Asset Target Today Funds
-1.03
0.61
Sources: Lipper; WSJ Market Data Group
Performance numbers are total return (changes in net asset values with reinvested distributions) for the periods ended June 30. Fixed-income performance numbers are preliminary.
The European tail wags the U.S. dog
Historically, longer-term Treasuries take their cues from U.S. economic growth, expectations of how the U.S. economy may perform, inflation and inflation expectations, and Federal Reserve policy. In other words, it's all about what's happening domestically.
While those influences remain factors in the overall equation, what's been happening in Europe has cast a long shadow over Treasuries.
Earlier in the year, yields in Europe plummeted, with a number of nations sporting bond yields that fell below zero.
With few safe alternatives, capital found its way into Treasuries, which on a relative basis offered an attractive alternative to European bonds. Simply put, it depressed yields in the U.S.
As April came to a close, yields began to go back up in Europe. The yield on the 10-year German bond jumped from as low as 5bp to just over 1% in early June, which enabled U.S. yields to drift higher. In addition, expectations that the Fed will start raising rates later in the year were also a factor.
Note the rise in yield for the 2-year Treasury—it's a good proxy for Fed sentiment. But be careful. It can be volatile on a day-by-day or week-by-week basis.
Rates for T-bills remained in the basement.
Table 6: Treasury Rates (End of Month)
Month
Three-Month T-Bill
Two-Year Treasury Yield
10-Year Treasury Yield
30-Year Treasury Yield
Jan 2015
0.02
0.47
1.68
2.25
Feb
0.02
0.63
2.00
2.60
March
0.03
0.56
1.94
2.54
April
0.01
0.58
2.05
2.75
May
0.01
0.61
2.12
2.88
June
0.01
0.64
2.35
3.11
Source: St. Louis Federal Reserve
Junk debt
It's no secret the Fed has wanted to keep interest rates low as a way to stimulate economic activity. Savers, however, have been a casualty of Fed policy.
With few alternatives in safe investments, investors have jumped out on the "risk curve," snapping up less-than-creditworthy securities, including junk bonds.
ETFs that invest in high-yield debt began the year on a positive note, but rising concerns as the year progressed have hurt bond prices. Factors that have pressured prices include Fed chatter of rate hikes later in the year and worries about risk.
You see, the flood of cash into junk put underwriters in the driver's seat, relaxing covenants on some debt instruments and raising credit concerns in the market among some analysts.
Table 7: BofA Merrill Lynch US Corporate Effective Yield (End of Month)
Month
AAA
AA
BBB
BB
B
CCC or below
Jan 2015
2.11
2.17
3.55
4.8
6.95
10.84
Feb
2.49
2.34
3.52
4.52
6.32
10.03
March
2.41
2.32
3.47
4.73
6.56
10.66
April
2.51
2.37
3.53
4.65
6.34
10.47
May
2.63
2.48
3.62
4.69
6.25
10.69
June
2.82
2.69
3.88
5.19
6.75
11.69
Source: St. Louis Federal Reserve
Another Q1 slump in GDP
This has been an economic recovery that just can't seem to exit its low orbit. After watching growth accelerate in 2014, GDP turned negative in Q1.
Many blamed the cold winter, but growth hit a soft patch late last year amid headwinds created by the strong dollar (which hurts exports) and the steep drop in oil prices.
The decline in energy prices was supposed to fuel consumer spending. Instead, reluctant consumers chose to save most of their mini-windfall, while steep cutbacks in capital outlays and layoffs in the energy sector depressed output early in the year. In some respects, it created economic pain without any short-term economic gain.
While preliminary Q2 data on GDP won't be out until late July, economists expect a modest rebound.
Figure 1: Total U.S. Economic Output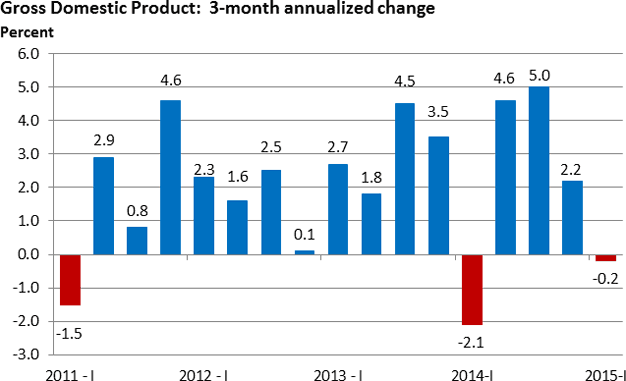 Source: Bureau of Economic Analysis
Modest payroll growth
The slowdown in the economy at the start of the year has dulled payroll growth, which has averaged 208,000 during the first six months of the year.
It's respectable, but it's created a reluctance among an already dovish Fed to pull the trigger on the first rate increase in almost 10 years. Yet labor force growth remains fairly anemic, and that has been a factor in nibbling away at the jobless rate.
The Fed considers an unemployment rate of 5.0-5.2% to be full employment, according to a series of economic projections released in June. We currently reside at 5.3%.
Table 8: Key Labor Market Indicators
Month
Nonfarm payrolls (000s)
Unemployment rate %
Jan 2015
201
5.7
Feb
266
5.5
March
119
5.5
April
187
5.4
May
254
5.5
June
223
5.3
Source: BLS
Failure to move back to target
There are two key pricing gauges that investors follow closely—the Consumer Price Index (CPI) and the Personal Consumption Expenditures Price Index (PCE Price Index).
Both are broad-based measures of prices, though the Fed favors the PCE Price Index.
Figure 2: Pricing Pressures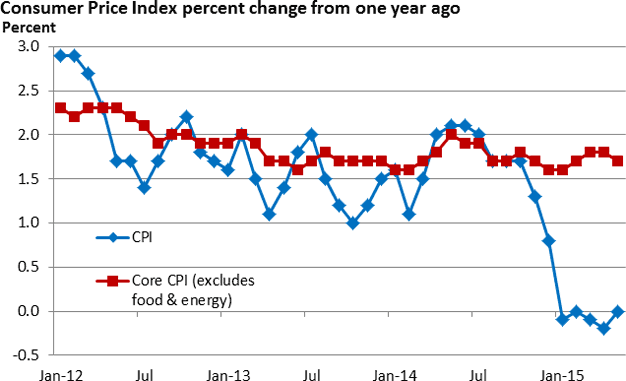 Source: BLS. Last date: May 2015
The headline CPI crumbled late last year as oil and gasoline prices plunged. That has put the core rate of inflation, which excludes food and energy, in focus.
Falling energy prices have likely played a role in limiting upward pressure in core inflation. The stronger dollar, which pushed the Import Price Index (excluding fuels) below zero, has also been a headwind to higher inflation.
What we haven't seen: a severe disinflationary trend taking hold amid the steep drop in energy prices.
The Fed-favored inflation gauge
Through May 2015, both the headline and the core PCE Price Index have been below the Fed's 2% target since April 2012.
With oil temporarily distorting the headline number, the Fed is closely eyeing core inflation. So far, core inflation has yet to show any signs of moving back to target, which gives ammunition to the doves at the FOMC.
"In determining how long to maintain this target range, the Committee (FOMD) will assess progress—both realized and expected—toward its objectives of maximum employment and 2% inflation." So says the Fed's latest statement.
While the Fed has made progress toward its employment objective, core inflation has yet to show any signs that it is moving back to target.
Figure 3: The Fed-Favored Inflation Measure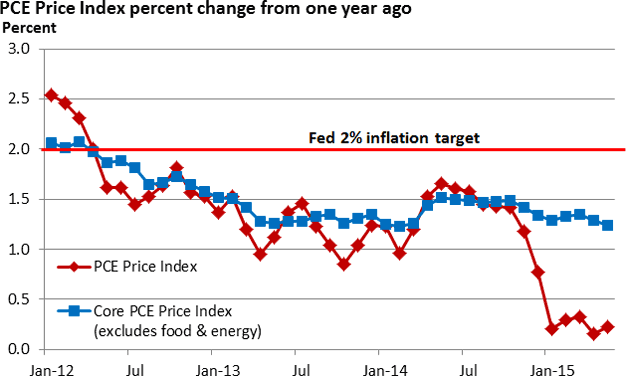 Source: St. Louis Federal Reserve. Last date: May 2015